Like the Flowing River: Thoughts and Reflections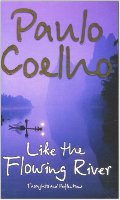 Reviews
@menepascual
Reviewed: 2020-02-22
If you are a fan of Coelho, then this is a must read for you. It gives us a glimpse of just where his ideas come from and how his personal beliefs impact the stories that he writes. I greatly enjoyed reading this and felt like I was talking directly to the author as I read. 
@timelyreader
Reviewed: 2017-07-23
"Like the flowing river" is a combination of thoughts, lessons, reflections drawn from personal experiences of Paulo Coelho himself. And with every single short stories told here, you will find yourself reopening it from time to time in the future. Indeed, it could make a fine friend to bring along all the time. Because one can resonate and connect well with these stories, though each experience may differ from one another 

I often wonder why some people have the tendency to meet interesting human beings, acquire for themselves thrilling stories and then get to share the stories with others. Last night, I came across a comment on one of Nas Daily video on Facebook, asking why Nas was so lucky to meet these interesting people and make videos about them.

And through this book in particularly, and many other ones of Paulo Coelho, I understand that in order to reach another human being's world, I have to extend myself in all aspect. By extending, it means I need to go to places, actively seek to connect with others, to talk, to share, to listen and to understand. With that way, one's life will be enhanced spiritually and opportunities in life will arise. 

To end this, I'm gonna give away a small piece of writing of the book and let you decide for yourself, whether this book is the next friend you want to bring home with. 

Excerpt from "Statutes for the new millennium" (p.116)

"4. Each human being was given a virtue: the ability to choose. Anyone who fails to use this virtue transforms it into a curse, and others will choose for them".