Court of Thorns and Roses, A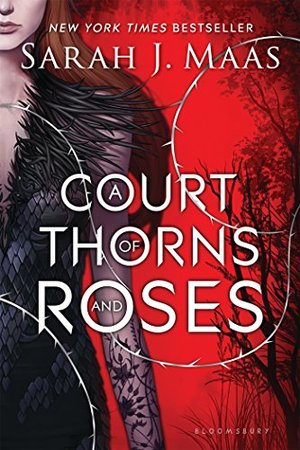 Sarah J. Maas
THE INSTANT NEW YORK TIMES BESTSELLERPerfect for fans of Kristin Cashore and George R.R. Martin, this first book in a sexy and action-packed new series is impossible to put down!When nineteen-year-old huntress Feyre kills a wolf in the woods, a beast-like creature arrives to demand retribution for it. Dragged to a treacherous magical land she only knows about from legends, Feyre discovers that her captor is not an animal, but Tamlin--one of the lethal, immortal faeries who once ruled their world. As she dwells on his estate, her feelings for Tamlin transform from icy hostility into a fiery passion that burns through every lie and warning she's been told about the beautiful, dangerous world of the Fae. But an ancient, wicked shadow over the faerie lands is growing, and Feyre must find a way to stop it . . . or doom Tamlin--and his world--forever.
Reviews
@ferferlynn87
Reviewed: 2017-12-12
**Contains spoilers**  There are not enough words for me to express how much the Throne of Glass Series and the A Court of Thorns and Roses Series are my ultimate, number 1, on the top shelf, at the top of the list, will re-read several times a year, FAVORITE book series!!!!!!! I am fully committed to these series. SJM is such a gifted storyteller.
**Note: This is my review in a lump sum of all the TOG books and ACOTAR books.***
The Throne of Glass series starts out about a 16-year-old assassin who along the way finds out she is the long lost queen of Terrasen. She was lead to believe her whole life (well actually she believed it so much that she sort of chose to forget over the years who she really was) that she was Celaena Sardothien, the world's greatest assassin, the heir to the King of the Assassins, Arobynn Hamel. At the age of 8 her parents and many others in her kingdom were murdered by the evil King of Adarlan. She was Aelin Ashryvver Galathynius, rightful Queen of Terrasen. Over the span of the first 3 books she finds her way back to herself again and has to decide if she wants to step up to her fate and save her kingdom and the world. She meets and make many friends and allies along the way: Prince Dorian Havilliard of Adarlan (confused? Read the book and find out why), Chaol Westfall (Captain of the Royal Guard of Adarlan, also second love interest of Celaena), Lysandra (a prostitute enemy who later Aelin frees and becomes dear friends with), Manon Blackbeak (a witch who starts out as an enemy and the becomes a close friend and ally), Aedion Ashryvver (leader of the Bane and Aelin's cousin. They look so much alike they could pass for twins), and of course I saved the best for last, Rowan Whitethorn (Aelin's love. My favorite person in the whole book! Rowan is a several hundred-year-old Fae warrior). We also meet the Rowan's cadre (Fenrys, Gavriel and Lorcan). Love them too. Anyway, Aelin has to round up more allies and armies to try and defeat the evil of the world, The Valg. They are demons from another realm that somehow came to this world many years ago when someone used what is called Wyrdkeys to open a portal. These Valg demons take possession of the human bodies. The Valg has had a head start on building their army for ten years. So Aelin has to work quickly and efficiently. Hopefully she can gather several armies, save her friends, the world and herself before it is too late. I don't want to give away too much of the story and adventures so I highly recommend for you to read the book!! I could probably write a 20-page paper easily on this book series!
Now, the Court of Thorns and Roses series starts out about a destitute 19-year-old girl named Feyre Archeron. It is sort of based off Beauty and the Beast at first. This is a world divided by a wall. On one side of the wall are the humans and on the other side of the wall are the Fae. Neither is supposed to cross the wall. On the Fae side, they are divided into courts. You have the Spring, Autumn, Summer, Winter, Day, Night, and Dawn Courts. The Spring Court was put under a curse 49 years ago by the villain, Amarantha. Amarantha is a minion of the King of Hybern (who is our ultimate bad guy). Amarantha has been running her court Under the Mountain for 49 years and has it modeled after the Night Court (read the series to learn the differences in all the courts). 49 years ago, Amarantha was rejected by the High Lord of the Spring Court, Tamlin. So out of spite and bitterness, Amarantha threw a masquerade ball and invited the Spring Court to attend. When they all arrived, she cursed the entire court to wear their masks forever. However, there was a catch, Tamlin has a chance to break the curse. He had 7 times 7 years to make a human girl fall in love with him and the curse would be broken. Now this proves difficult because the humans HATE the Fae because they believe that the Fae just ruthlessly murder humans for sport or to eat them. So we see the problem here. Until, along comes Feyre. Of course, Tamlin has his work cut out for him to try and convince Feyre that even though he pretty much kidnapped her on observed charges that he is in fact a great guy. I don't want to give away the adventure so read the book!!
In part two, A Court of Mist and Fury, we get to see more of Rhysand, the High Lord of the Night Court and the overall BEST character (Rowan comes in second, sorry Rowan!) of ALL of SJM's books!!!! I don't want to write anything about this book or the last book, A Court of Winds and Ruin, because it would give away too many details from A Court of Thorns and Roses. So I highly, highly, highly, highly, and so on, recommend reading this series.
 **Also note that the TOG book "Empire of Storms" and "Tower of Dawn"  and all of the ACOTAR books have some grown up parts that are not meant for young readers. **
It is rumored that SJM is going to make spin off books for the ACOTAR series so we can see more from our other loved characters (Cassian, Azriel, Lucien, Mor, and Amren). I hope so!
@lmalmario
Reviewed: 2017-01-27
I've started this book after I lost my Crown of Midnight book. This book is okay for me. It was a good one but if I were to compare it to the ToG Series, this one doesn't really match that. There was some plot twist and good overall story but it just didn't wow me. The first half of the book wasn't compelling enough for me and the part I did enjoy was the climax. Sarah J Maas is a smart author, using such creative ways to challenge the readers intellectually while reading and I like that. While this story was good it wasn't something that excited me as much. 4.5/5