Lola and the Boy Next Door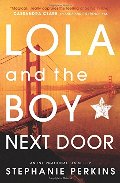 Stephanie Perkins
Budding designer Lola has an outrageous sense of style, a hot rocker boyfriend and big plans for the future. Everything is perfect - until Cricket Bell returns to the neighbourhood. When he steps back into her world, Lola must reconcile a lifetime of feelings for the boy next door. And perhaps discover that true love can be closer than you think.
Reviews
@chibireads
Reviewed: 2020-07-22
Originally written in 2014
The following review might sound a bit negative and could lead you into thinking Isla and the Happily Ever After is rather boring, but it's not! I loved and enjoyed it! It's just hard to express your love when the book's story isn't something special per se.

The story is rather clichéd. Let's admit that. It wasn't something new, it wasn't revolutionary or surprising. From the very beginning you know exactly what could happen and as you read along you know what will happen in the next chapter, because it's just that obvious. In the end it simply is another love story. This can be boring if you're looking for something innovative. I for my part was looking forward to reading something cute and normal/ordinary that would leave me with a fluffy-happy feeling which I got. The only surprise for me was the first two chapters, because I didn't expect it to start off like this. After that I knew what would happen and I wasn't surprised at all to learn that Isla was not as innocent as we thought she was thanks to Anna and the French Kiss. "Unfortunately" this doesn't make her a newish character, because I saw a lot of those "I'm not as innocent as you think" girls in TV shows or read about them in books. Isla still remains a lovable character who gives you the vibe of a normal teenager. Her actions and feelings aren't fake or feel wrong/weird. She felt real and honest. I loved that about her. I also loved how she discovered that it is ok to not have your future planned out. The same goes for Josh. He isn't anything special, but he's still a great character thanks to the feeling he gave of. He felt real. I loved how Perkins described his drawings and the vibe he gave off while drawing. That actually did made him special.. Kurt was a nice addition to the story and I found myself caring about him more than I thought I would. I loved how Perkins also gave him some development. The other side characters were okay. They didn't bother me much, but I wasn't sad when they left the story (or appeared again). A part I really liked was how Rashmis and Joshs relationship was a part of the story. Of course it was a huge part of the plot, because it would make Isla feel bad and stuff, but I loved how their relationship was portrait. How it was an important part in Joshs story. I think that's what made me love the book in the end. It didn't revolve around Isla only. It also was Joshs story as it was Kurts. That's what gave Isla a new vibe and made it different from Anna and Lola.

Isla and the Happily Ever After is a great conclusion to a trilogy I loved and enjoyed very much. I'm still surprised that I loved those books so much as I'm normally not a fan of contemporary/romance. I'm also surprised that I loved all three books for completely different reasons and how they all felt different despite being set in one universe. It's also interesting how they connect and feel like a series despite the detail I just mentioned. If I could I would rate Isla 4.5 stars (like the other two).