art of racing in the rain : a novel, The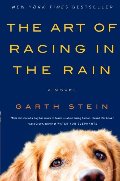 Garth Stein
A heart-wrenching but deeply funny and ultimately uplifting story of family, love, loyalty, and hope--a captivating look at the wonders and absurdities of human life . . . as only a dog could tell it.
Reviews
@fromelliott
Reviewed: 2017-05-28
Posted at ze book blog.
@colonalibrary
Reviewed: 2015-01-08
A story about the dog who wanted to be a real boy. This book shows life through a dogs perspective who hopes to be human in the next life. Not only do you read about Enzo's life but also his master's. In every stereotypical animal story, Everyone knows that animal stories that the animals life will come to an end. This the animal story is beyond stereotypical. I was wondering after Enzo's death was his end or if he was good enough to get his next human life. You can pick up this material at the colona public library ~Ashley
@slowdance
Oh boy. I knew what was coming, and I really didn't expect it to affect me that much. But it did. I had to put down the book until I had calmed down enough to be able to see through the tears. Really devastating but also a really great and hopeful story. I'm more a cat person (though I do love all animals), and I'm very terrified of driving and don't have a license even though I'm a decade past that age, but the whole story transcended any preferences I had. Of course my own personal memories came flooding in, which made the emotions more vivid, but I feel like anyone who knows the love of an animal would be able to feel the emotion of the entire book.