Art of Racing in the Rain: A Novel, The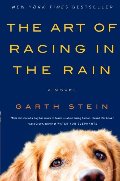 Garth Stein
A heart-wrenching but deeply funny and ultimately uplifting story of family, love, loyalty, and hope--a captivating look at the wonders and absurdities of human life . . . as only a dog could tell it.
Reviews
@virago
Reviewed: 2021-10-12
First of all, the initial description of the book that I read said NOTHING about this being heart-wrenching or a tear-jerker. If it had, I would have better prepared myself for this book.
It was a beautiful story that made me happy, sad, angry. I laughed at a few parts, but mostly, this was a very melancholy tale. Enzo was an amazingly smart dog and living life through his eyes made me wonder (even more than I previously did) what goes through my dog's head most days.
I loved and hated Enzo's family. It was so sweet and very believable how much Denny loved his dog, because I love my dog that much and I'm not even a 'dog' person! And the things Denny went through... Ugh there were a few times when I wanted to punch Denny, but mostly I wanted to do bodily harm to his wife and in-laws. And somehow, even though he was only a dog, Enzo usually ended up saving the day.
As mad as I was to read the opening paragraphs and find out that this was not a whimsical tale of life through a dog's eyes, but the flash back of his life during his last days (which they warn you about in the description on the back of the book so this is NOT technically a spoiler) I could not put this book down. I ended up taking it to the beach and sitting under an umbrella next to my hubby, I finished it. I was bawling. If you read this, keep tissues or a hanky with you! But you should read this.
@rascalbooks
Reviewed: 2020-07-15
UsedGood
@fromelliott
Reviewed: 2017-05-28
Posted at ze book blog.